Blog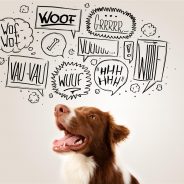 Bark! Woof? Growl?! Do you know what all these "dog language" words mean? Whether your furry friend is leaping through pet doors for dinner or trying to alert you to a dreaded squirrel in the yard, he has his own language, too. Savvy companions often grow to inherently know their dog's barks and what they mean, but, as it turns out, your dog's barks really do have different and identifiable meanings.
Let's paw at the truth and get to know our pups a little bit better with this translation guide.
Repeated Mid-Range Barks
The repeated, mid-range bark is your dog's way of saying, "Hey human! Pay attention. Something's happening." It's the bark...
read more